During the final Night Watch of 2021, we all – together, chat and crew and everyone who's come along for any part of this wild ride – we ALL reached the amazing milestone of $8 MILLION raised over the lifetime of Desert Bus for Hope!
Special thanks to dostrow_ whose $20,000 winning bid on the pair of Mass Effect guns got our evening off to a high octane start, and heronblademaster who donated $4,626 to cross the final threshold to this incredible milestone.
Thanks to everyone's combined efforts and support, we have achieved what some thought impossible. Yes, that's right. The Q judged us ferior.
The crew of the USS Tucson very much enjoyed getting visits from special guests, like Ensign Matt from the runabout Duck Creek.
Admittedly, we got a little frightened when Matt threatened to arrest us for illegal weapons sales. Us? The crew of the USS Tucson? Why, we are perfect angels who would never engage in illegal weapons sales!
And we DEFINITELY wouldn't do it again tomorrow.
…Moving on. We also got a power Serge via the Telepresence Robot. Serge was an expert at piloting the robot.
Plus, Ensign Ben FINALLY found his way back to the USS Tucson today, which meant that Ben and Serge were able to reunite!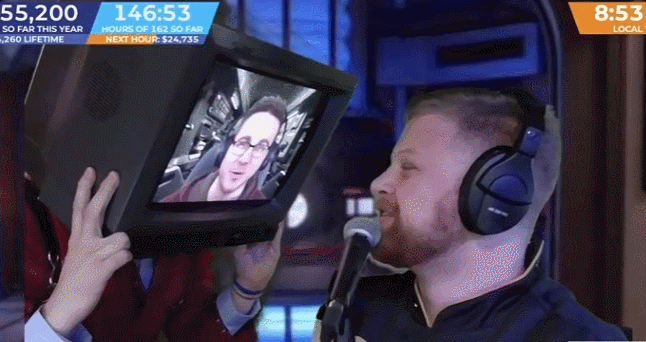 All in all, a truly heartwarming night! We were in such a good mood that we didn't even blow up Zeta today. After a full week of destructive loops, we realized that together, we could make this the best timeline!
If you want to commemorate the antics of the USS Tucson and its crew, you can buy the USS Tucson playmat or poster! Proceeds go to Child's Play.